At Home in Chicago: A Living History of Domestic Architecture (Hardcover)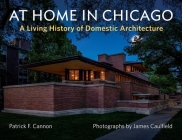 $65.00

Usually Ships in 1-5 Days
Description
---
Imagine a book that takes you into more than fifty of Chicago's most striking homes. No need to knock or ring. Here's your chance to take a slow ramble through lavish dining rooms, working kitchens, private bedrooms, and cozy patios of homes that reveal the city's 184-year history.
You'll be accompanied by an experienced docent. And you'll join Chicago's preeminent architectural photographer, who will show you things you might never notice.
Open your eyes and take in At Home in Chicago: A Living History of the Domestic Architecture in the City, the first comprehensive look at the city's most private residences. You've probably heard of some of these places: Frank Lloyd Wright's sleek Robie House, Mies van der Rohe's groundbreaking 860-880 Lake Shore Drive, Jeanne Gang's sublime Aqua Tower. But most are off limits from Chicago's famous architectural tours.
At Home in Chicago is the sixth book by Patrick F. Cannon and James Caulfield. Now they focus on Chicago's domestic architecture: the log cabins, cottages and bungalows, greystones, three-flats and mansions. The houses that made Chicago.
The authors travel across the metropolitan region to present an eye-opening look at the city's 200-year history through different home styles. They inspect houses built before the 1871 Great Chicago Fire, walk through the mansions that rose during the Gilded Age, check out the apartments finished before the Depression, and scrutinize mid-century and new-century homes.
It's a once-in-a-lifetime look at buildings that are alive and well in 2021 Chicago. Never before have you been offered such an intimate view.
At Home in Chicago tells an astonishing story about Chicago. It reveals the city's history through a chronological procession of dwellings--both big and small. These homes show how we lived and how we continue to live in the place we call home.