A River (Hardcover)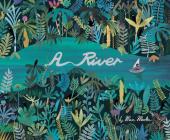 Description
---
There's a river outside my window. Where will it take me?

So begins the imaginary journey of a child inspired by the view outside her bedroom window: a vast river winding through a towering city. A small boat with a single white sail floats down the river and takes her from factories to farmlands, freeways to forests, out to the stormy and teeming depths of the ocean, and finally back to the comforts—and inspirations—of home. This lush, immersive book by award-winning picture book creator Marc Martin will delight readers of all ages by taking them on a transcendent and aspirational journey through an imaginative landscape.
About the Author
---
Marc Martin is an illustrator, artist, and bookmaker based in Melbourne, Australia.
Praise For…
---
"Light on words, heavy on gorgeous illustrations that explore nature, and cities, and home."--Design Mom

"Light on words, heavy on gorgeous illustrations that explore nature, and cities, and home."--Design Mom

"This stunningly illustrated book, rendered in deep blues and greens, charts a river's meandering course through cities, farms and jungles."--Entertainment Weekly

"This stunningly illustrated book, rendered in deep blues and greens, charts a river's meandering course through cities, farms and jungles."--Entertainment Weekly

Read On Wisconsin! State Reading List 2018-2019

Read On Wisconsin! State Reading List 2018-2019

"A subtle study of how imagination allows children to safely explore the unknown without ever leaving home."-Publishers Weekly

"A subtle study of how imagination allows children to safely explore the unknown without ever leaving home."-Publishers Weekly