The Middle Place (Paperback)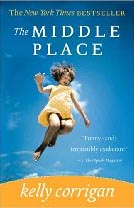 $21.99

Usually Ships in 1-5 Days
Description
---
"The Middle Place is about calling home. Instinctively. Even when all the paperwork -- a marriage license, a notarized deed, two birth certificates, and seven years of tax returns -- clearly indicates you're an adult, but all the same, there you are, clutching the phone and thanking God that you're still somebody's daughter."

For Kelly Corrigan, family is everything.

At thirty-six, she had a marriage that worked, a couple of funny, active kids, and a weekly newspaper column. But even as a thriving adult, Kelly still saw herself as George Corrigan's daughter. A garrulous Irish-American charmer from Baltimore, George was the center of the ebullient, raucous Corrigan clan. He greeted every day by opening his bedroom window and shouting, "Hello, World!" Suffice it to say, Kelly's was a colorful childhood, just the sort a girl could get attached to.

Kelly lives deep within what she calls the Middle Place -- "that sliver of time when parenthood and childhood overlap" -- comfortably wedged between her adult duties and her parents' care. But she's abruptly shoved into a coming-of-age when she finds a lump in her breast -- and gets the diagnosis no one wants to hear. And so Kelly's journey to full-blown adulthood begins. When George, too, learns he has late-stage cancer, it is Kelly's turn to take care of the man who had always taken care of her -- and show us a woman as she finally takes the leap and grows up.

Kelly Corrigan is a natural-born storyteller, a gift you quickly recognize as her father's legacy, and her stories are rich with everyday details. She captures the beat of an ordinary life and the tender, sometimes fractious moments that bind families together. Rueful and honest, Kelly is the prized friend who will tell you her darkest, lowest, screwiest thoughts, and then later, dance on the coffee table at your party.

Funny, yet heart-wrenching, The Middle Place is about being a parent and a child at the same time. It is about the special double-vision you get when you are standing with one foot in each place. It is about the family you make and the family you came from -- and locating, navigating, and finally celebrating the place where they meet. It is about reaching for life with both hands -- and finding it.
About the Author
---
Kelly Corrigan is, more than anything else, the mother of two young girls. While they're at school, Kelly writes a newspaper column, the occasional magazine article, and possible chapters of a novel. She is also the creator of CircusOfCancer.org, a website that teaches people how to help a friend through breast cancer. Kelly lives outside San Francisco with her husband, Edward Lichty, and their children.
Praise For…
---
"If you're in a book club or just love to read, make sure this book ends up in your lap, where it will remain until you finish. Plan to laugh, cry, and be consumed by Kelly Corrigan."—Winston-Salem Journal

"Bravely reveals the frightened daughter inside the grown-up wife and mother."—Elle

"Come for the writing, stay for the drama. Or vice-versa. Either way, you won't regret it."—San Francisco Chronicle