If Cats Disappeared from the World: A Novel (CD-Audio)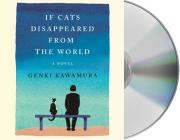 $27.49
Email or call for price.
Description
---
"Brian Nishii narrates this imaginative tale set in Japan about the complexities of death, life, and cats...A brief, charming parable." — AudioFile Magazine

The international phenomenon that has sold over a million copies in Japan, If Cats Disappeared from the World is a funny, heartwarming, and profound meditation on the meaning of life.

The postman's days are numbered. Estranged from his family, living alone with only his cat Cabbage to keep him company, he was unprepared for the doctor's diagnosis that he has only months to live. But before he can tackle his bucket list, the Devil appears to make him an offer: In exchange for making one thing in the world disappear, our narrator will get one extra day of life. And so begins a very bizarre week…

With each object that disappears the postman reflects on the life he's lived, his joys and regrets, and the people he's loved and lost.

Genki Kawamura's timeless tale is a moving story of loss and reconciliation, of one man's journey to discover what really matters most in life.

Praise for If Cats Disappeared from the World:

"At first, If Cats Disappeared from the World feels as light and puzzling as a fairy tale, but then, steadily, chapter by chapter—using nothing more than conversation, memory, and a winning narrator's searching, sensitive thought experiments—it raises its cosmic stakes higher than any thriller. Like a padding cat or the shadow of death, Genki Kawamura's book snuck up on me; the next thing I knew, I was crying." — Robin Sloan, New York Times bestselling author of Mr. Penumbra's 24-Hour Bookstore and Sourdough
About the Author
---
GENKI KAWAMURA is an internationally bestselling author. If Cats Disappeared from the World was his first novel and has sold over two million copies in Japan and has been translated into over fourteen different languages. His other novels are Million Dollar Man and April Come She Will. He has also written children's picture books including Tinny & The Balloon, MOOM, and Patissier Monster. Kawamura occasionally produces, directs, and writes movies, and is a showrunner. He was a producer of the blockbuster anime film Your Name, which is currently being developed into an live-action film by J. J. Abrams.

Eric Selland is a a poet, translator, and the author. His translation of The Guest Cat, a novel by Takashi Hiraide, was on the New York Times bestseller list in February 2014. He has also published articles on Japanese modernist poetry and translation theory. He is the author of The Condition of Music, Inventions, and an essay in The Poem Behind the Poem: Translating Asian Poetry. Eric currently lives in Tokyo, where he works as a translator of economic reports.